Nokia has made it incredibly easy for anyone who is connected to the internet to create their own application with the Ovi App Wizard. It basically captures the RSS feed from your blog and prints it to a neat looking, customizable, application frame that you can put on the Ovi store either for free or for a price not exceeding 5 Euros. You can also turn you Facebook, Blogger, Tmblr, Youtube, Picasa, and Flickr feeds into sections of your Ovi app, or give them their own independent applications. Up to 4 feeds are allowed per application and they can be from the same platform (ie. 2 rss feeds from different sites of yours.)
What You're Going to Need
Feed Url(s) If your using WordPress it will be the www.yourblogs.com/feed/, otherwise all you need to do is copy the url of your account
A Logo for Each Feed This should be a 256×256 pixel PNG, JPG or GIF that will be displayed on the Ovistore website, Ovistore app, and in the users app drawer as the app icon. Make sure its not too complicated as many Nokia phones will scale it down to 60x60px and you dont want it to look blurry or "mashed".
A Banner for Each FeedThis should be a 360×60 pixel PNG, JPG or GIF that will be displayed across the top of the application. Uploading a screencapture of you blog header that's at the perscribed size will do fine, Ovi wizard has a cropping tool for you to get the size perfect.
(Optional) A Millennial Media or an Mpression AccountThe Ovi App Wizard lets monotize your app beyond including a price tag by adding advertising. Unfortunately, it can only be served by one of the two ad distributors listed above.
The Result
Once you've got all your components, just follow the Ovi Wizards instructions and you'll end up with something like this →
The text colour of the links and app bar are both customizable, as is the background colour of the app bar itself. The placement of sections (ie the app bar, banner, posts) are not customizable but you can choose to display your posts as a grid of pictures instead of the title excerpt. In our example we only have a blog feed, if you have other feeds included in your app then there would be a drop-down menu on the app bar to navigate between them.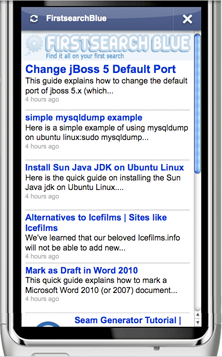 Share It
So we've crafted this nifty Nokia app with about an hour's worth of work; not bad. Its a great tool for reader/fan retention and it can turn into solid source of revenue from advertising or sales. The App wizard also has an automated social network sharing tool as well as a web tool to create a banner for your app.
Try it out and post your app links below in a comment!