Posts Tagged 'read reciepts'
|
Thursday, November 4th, 2010

Kik messenger was profiled by Firstsearch Blue twice already back when it was in it's beta stages. Since then, the Kik messenger app has changed it's service for the better leading to so many downloads that their servers crashed!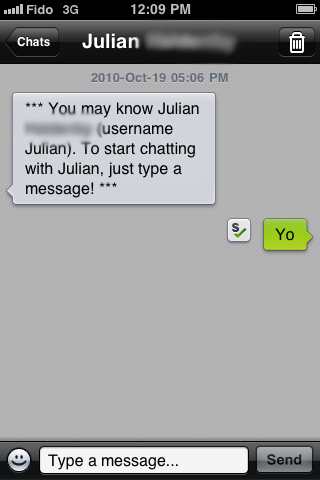 The Kik developers have done away with the "Cheap SMS" scheme, where you used to be able to pay a low cost to send unlimited SMS text messages over wifi or 3G. This won't really be missed, it wasn't too functional and, if your cramped for cash, its so much easier to just get an unlimited text plan than having an expensive data plan, or running around looking for public wifi. They have re-designed the messenger interface on top of improving the predictive text and spell check to make it more user friendly.
What is left over is a sleek, intuitive, and multi-OS messenger service that, in this writer's opinion, beats Black Berry Messenger (BBM). The app is available for Blackberry, Android, Iphone or even your Ipod touch. It has the leg up on SMS as it's free and you have the BBM-like read receipts available. For those who don't use BBM, this is a feature notifies the sender of the message when it has been sent to the recipient, once the message has been delivered and finally, and finally when it has been read by the user. The messages status is indicated by the little icon left of the sent message, reading either S for sent, D for delivered or R for read.
The application has had over 500,000 downloads in the last 10 days, and subscribers continue to pour in. The company is looking to try to monetize this audience eventually, most likely through streaming media sales.
You can get it on the Itunes, Blackberry and Android App Stores. Note that you might have a bit of trouble with it for the next few days as the company has temporarily shut down their servers to re-tool.
Tags: bbm, blackberry, instant message, iphone, kik, kikchat, read reciepts
Posted in Android, blackberry, Headline, iphone, Wireless | 3 Comments »
Publish your content instantly on FirstSearch Blue and get plenty of free exposure.
Most Popular in read reciepts &raquo
About
FirstsearchBlue is the collaborative effort of a group of multi-disciplined university students. Our goal is to make it easier for everybody to learn how to do anything they want, in a single search. We will keep you up to date with the latest news from the world of technology and the internet.
© 2011 First Search Blue, all rights reserved. Template for FirstsearchBlue by Fix This Face