This is a guest post by Ty from Good Canadian Kid. Check out GCK for thought provoking and humorous reads like GCK's Favourite Mac Utility Application , The Ultimate Badass: Bishnu Shrestha and Marketing and (Pseudo) Science
Online comments that reference blogs, podcasts, Youtube, memes, etc. can reveal a lot about the content in question. They give insight to the quality of the content and, in some circumstances, act as a microcosm that represents a larger community or fan base.
After watching a video, listening to a podcast or reading a blog, it is refreshing to view comments that are more telling then the original content it insinuates. On the contrary, it's frustrating when the highest voted comment is one of the of the comments below.
Comments that claim that modern day music, movies and/or culture are Dead
I'll be the first one to admit that mainstream popular culture, collectively, might not be at its best state (this is a topic that would take a lot more than a quick blog entry to discuss). With this said, it can be frustrating when the top rated comments have a fetish for nostalgia. This is probably because most of the users who publish and vote for these comments are teenagers that are upset with modern mainstream popular culture (sometimes I don't blame them), and instead of digging deeper to find the quality content, they trash 'modernism', and try to live in (and sometimes overvalue) the past. I did the same thing when I was a kid – they'll grow out of it. Quality music, movies, opinions are out there, the only thing that has changed is that you probably wont find it on MTV or FOX – you have to look it.
Comments that add zero value
I think the foundation of most of these comments are to provide a "camaraderie" feeling – I'm part of…"team I hate Justin Beiber", "the ACDC legion', "Oasis is the best brit-pop band team"'. I suppose, through creating and voting for these comments, people feel included in "something" – a movement, school of thought, team…whatever.
I'll leave you to stew in this comment…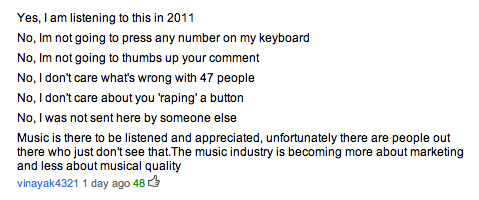 I was actually thinking about 'liking' this comment until the author dropped this astute personal survey on us; "The Music Industry is becoming more about marketing and less about musical quality"… Bleh
Do you have a most hated comment? Post it here in the comments or email your picture to [email protected] and we'll throw it up!