Although Flac gives you a far superior sound quality, the files are large and impossible to transfer to most big market mp3 players. In order to get these cumbersome files into itunes on your mac we need to get a piece of open source software called Max which you can get here .
Decompress and open the application.
First we need to pick the format that we would like our flac files to be converted into. Along the top select Max>Preferences or simply press command+, to open preferences. In preferences select format, this is where we select what we would like to convert our .flac files into. Click on the MP3 option in the "Available output formats" list and then press the plus button to the left above the list as shown here: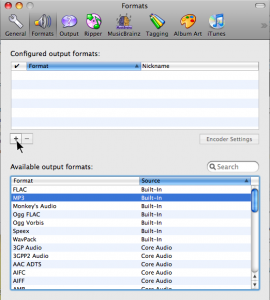 Max will drop down a set of quality options, I advise selecting best to retain as much audio quality as we can when we convert to MP3. Set the Encode Quality to best and select "OK" to continue. Now that we're back to the Formats menu, click the check box to the left of MP3 in the "Configured output formats" and close the window.
From the File menu, select "Convert Files…" or press command+shift+O. This will bring up the file conversion screen. Find the files that you want to convert on your hardrive and select Open. You can change the meta data of the music; the album, artist, genre, ect that will show up in itunes along with the song, by clicking "Metadata."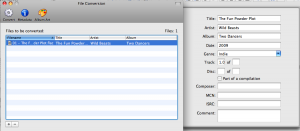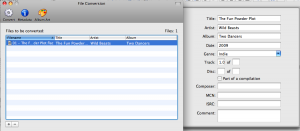 Select the convert button in the top left corner of that screen to start converting your FLAC files into MP3. Max will automatically add the files to your iTunes library to be put on your ipod.