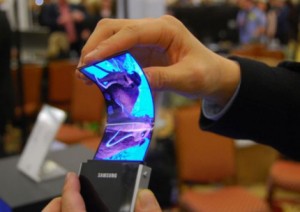 According to Mashable, Apple submitted a patent application revealing a possible integration of flexible OLEDs (organic light emitting diode) that could bend with the existing Apple Smart Cover.
The Ultra-Cool Concept
The patent sketches serve up possibilities that make Microsoft's Surface Tablet seem dull. The Apple Smart cover is a flexible cover that protects the iPad screen. It is also supposed to fold to support the tablet, though the product has fallen short in that regard.
A flexible screen attachment, according to the sketches, would not be completely connected to the Apple Smart Cover, but would be its own element. This means that the Smart Cover could be used to stabilize the iPad, while the OLED could be spread flat as a keyboard. (Take that Surface Tablet!) This feature would appeal to the iPad's existing fan base of college students and could possibly spur tablet technology to overtake laptops as the choice for mobile devices.
The OLED screen could also be used as a drawing surface, message board or a second screen. The flexibility of the screen could also allow it to be folded into a stabilizer for easier media viewing. Although it's just a patented idea, not a full-fledged commitment, the concept definitely gives us something to think about in terms of the future of screen technology.
Unfolding a Vision of the Future
I first saw the flexible screen display during the Las Vegas Tech Convention earlier this year, but Samsung announced in 2011 that it would begin shipping flexible screens in 2012, saying that it had already amassed large orders. (I have yet to see it in the U.S.)
Samsung and Apple have worked together in the past for screen technology, and this patent definitely hints at future collaboration. Though Nokia announced a phone prototype with a bendable screen last year, it seems that the tablet will be the starting point for this trend to unfold. (Unless the iPhone 5 comes with a big surprise! A flexible screen would solve the phone's durability problems.)
Flexible screens could have a variety of uses, melding paper and computer uses such as displaying information of a hospital patient's armband. Bendable wrist computers for military use are also in development. In the next era of technology, any surface can be a computer – even the sides of buildings.
Although flexible screens seem to be the next big wave of the future, there is still plenty of time before the market adjusts to these new concepts. We may be waiting another 3 years before any product actually hits the mass market, but I'm keeping my eyes and ears open.
Katheryn Rivas is a regular contributor to Online University. Like the name suggests, the online universities blog focuses on higher education and trends. She welcomes your comments at [email protected].