This new XBMC icefilms addon by Batch is similar to the existing Icefilms.info plugin from anarchintosh in that it uses the icefilms database to play movies from external hosting sites on you tv through the XBMC. The big difference though, is that IceLibrary will actually import these links of movies and TV shows to you XMBC library. It works pretty well but each time a user updates their video library with these linked files, Icefilms could have it's entire site scraped – which very heavy on Icefilms.info's server resources.
The plugin allows for search parameters, for example you can tell it to scrape only movies that begin with the letter A, but this still allows for the possibility of broad scrapes. This has been done before by bradvido88 back in April of 2011. His plugin also worked well but Icefilms admin were frustrated with the load it caused on the server. To keep the site from crashing, they began to block the IPs of individuals using the addon until bradvido88 removed Icefilms support.
Batch shrewdly disabled the ability to search without specifying parameters so as to reduce the load on the Icefilms server. Hopefully this will not cause too much of an issue for the Icefilms.info administration as they have been having to fend off nightly DDOS attacks lately.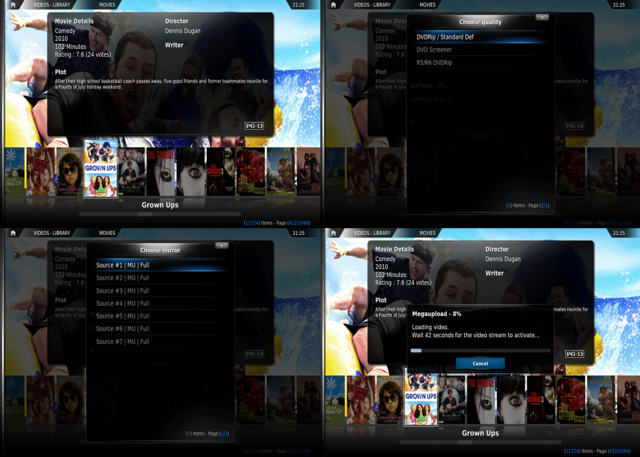 Getting IceLibrary
You can get the new XBMC Icefilms addon from www.batch.se/plugin.video.icelibrary.zip.
Installation
By Batch from XBMC forum
Requirements:
TV shows will be recognized by the current XBMC build but if you want movies to be recognized by the library then you need to get a modified version of XBMC.
.strm files will not be recognized as movies in the current build of XBMC.
To fix this, this patch needs to be applied: http://trac.xbmc.org/attachment/tick…tFactory.patch
To apply this patch you need to compile your own version of XBMC.
HOW-TO_compile_XBMC_for_Linux_from_source_code
HOW-TO_compile_XBMC_for_Windows_from_source_code
Windows users can use this patcher to make XBMC able to recognize movies: XBMC patcher
The patcher is tested with and supports the current stable release, 10.1 "Dharma", but will probably work on the nightly builds as well.
Download the patcher and unpack it to the installation directory of XBMC, the folder where you find XBMC.exe.
Right click on the patcher and choose to run it as administrator.
The patcher will create a backup of your XBMC.exe named XBMC.bak and then patch your XBMC.exe.
Use the patcher on your own risk. You shouldn't be able to screw anything up with the patcher but if you do, I won't take any responsibility for the screw up. If you insight in what the patcher does then you could look at the soure code which is provided in the zip-file as well.
How to use the addon
Setup the IceLibrary addon:
Download the addon here
Choose install from zip-file in XBMC and target the downloaded file.
Configure the addon after installation.
Run the plugin, it is found in video plugins directory.
Choose "Setup IceLibrary".
Choose "Setup IceLibrary folders".
Restart XBMC. Once XBMC is started again two IceLibrary folders should be added to video folders. Set the appropriate folder type for the folders.
Get movies (the first time):
Start IceLibrary addon.
Choose "Setup IceLibrary".
Choose "Scrape all movies".
Close IceLibrary plugin and update your library.
The process of updating the library will take a long time since you will need to download the fanarts and data of thousands of movies.
Get new movies:
Start IceLibrary addon.
Choose "Get new movies".
Close IceLibrary and update your library.
Get your favorite TV shows:
Start IceLibrary plugin.
Choose "Setup IceLibrary".
Choose "Edit favorites list".
Create a favorite list of TV shows.
Go back to the addons start menu.
Choose "Update favorite TV shows".
Close IceLibrary plugin and update your library.
Get more info from the XBMC forum thread