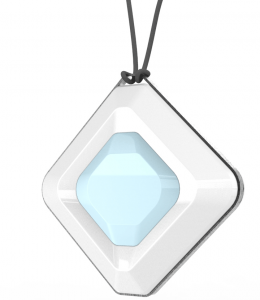 As our loved ones age, their safety becomes of real concern to us, especially when they are living alone or have a disability or illness. These days, we all lead extremely busy lives and we don't always have the time to call around and check in on our elderly friends and relatives as much as we would like. Which means having the ability to keep track of, and monitor their safety from a distance becomes more and more necessary.
For years, countless manufacturers have tried and failed to come up with an innovative medical alarm system that both looks attractive and inconspicuous and works, no matter where the wearer might be. Unfortunately all of these designs have been, large, cumbersome and unsightly and most seniors refuse to wear them. Coupled with the fact that all of these medical alert systems only work within the confines of the wearers own home, it is no surprise that their success has been fleeting.
This has all changed however with the launch of the new medical alert system from Amulyte (www.amulyte.com) Also known as a Mobile Personal Emergency Response System (MPERS) the Amulyte is attractive, discreet and most importantly incredibly functional.
As a wearer, the Amulyte Personal Emergency Response System keeps you within constant reach of your loved ones and caregivers. Simply press the button on your Amulyte Alert System and they will be notified immediately; allowing you the freedom to do as you please when you please. No longer are you required to stay within range of the home base station that other medical alert systems require. Using the same technology a cell phone, the Amulyte medical alarm system eliminates the need for a base station, giving you the freedom and security to go anywhere you please.
As a friend, relative or carer  you can have complete peace of mind knowing that your loved one is always safe. The activity tracking facility allows you to monitor any changes in their level activity and learn when something changes. You can rest assured knowing that should your loved one require attention you can be notified immediately via text message, phone call, email or online via the Amulyte web portal. Amulyte is also fitted with an automatic fail-safe system should your loved one fall or become incapacitated and unable to activate the personal alarm manually.
Key Features of the Amulyte Medical Alert System
Help Button – An easy to press help button that will automatically connect your loved one to you if they need assistance.
Works Anywhere – Whether going for a walk or running errands, the pendant works anywhere, both inside and outside the home.
Easy to Wear – Can be worn as a necklace or a belt clip, designed to look good and be comfortable.
Waterproof – Can be worn in the shower, in a pool, or out in the rain.
Real Time Alerts – Get notified instantly if something isn't right via text, phone call, email and online notification.
Status Update – Get a daily recap of a senior's activity level, keeping you informed and letting you know that everything is OK.
Activity Tracking – Tracks when your loved one is moving, and the level of activity.
Lifestyle insights – Discover activity patterns, average activity level and learn when something changes.
Peace of Mind – If help is needed you will be the first to know, rest assured knowing your loved one is safe.
Give yourself and your loved one peace of mind by giving an Amulyte.
For further information visit the Amulyte website www.amulyte.com